(Click here to see SETTINGS screen details for TV-connected Tablo DVRs like Tablo DUAL HDMI).
(Click here to see SETTINGS screen details for Network-Connected DVRs like Tablo Dual Lite DVRs).
The Tablo Settings screen covers basic information about your DVR and allows you to adjust your Tablo's configurable settings.
Account
This section displays all of your account details including your email address, name, and all Tablo devices connected to your account.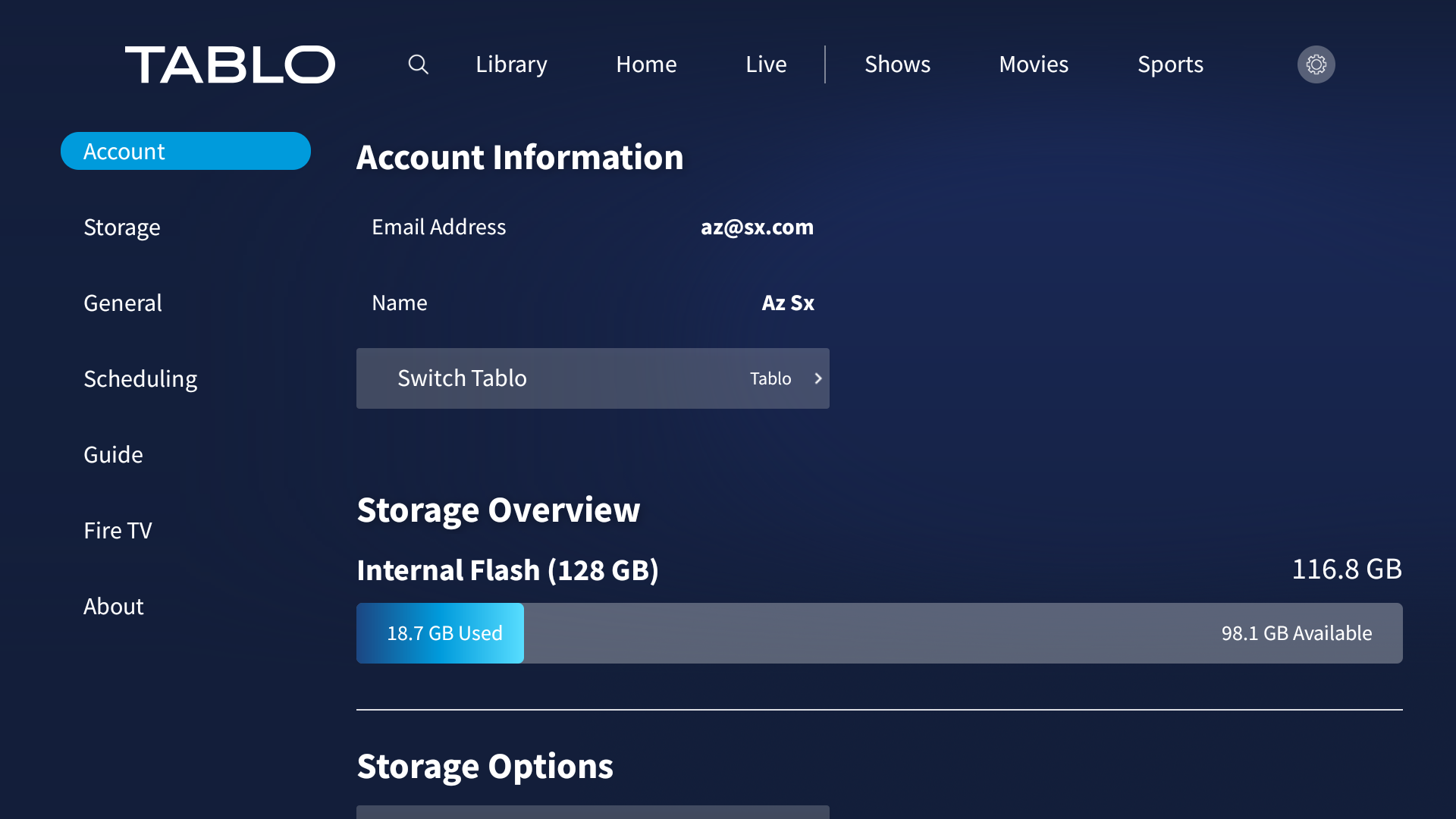 Storage
Displays the Internal Flash Drive status, capacity, and the amount of storage space that is used. If you add an external hard drive to your Tablo, its status will be displayed here.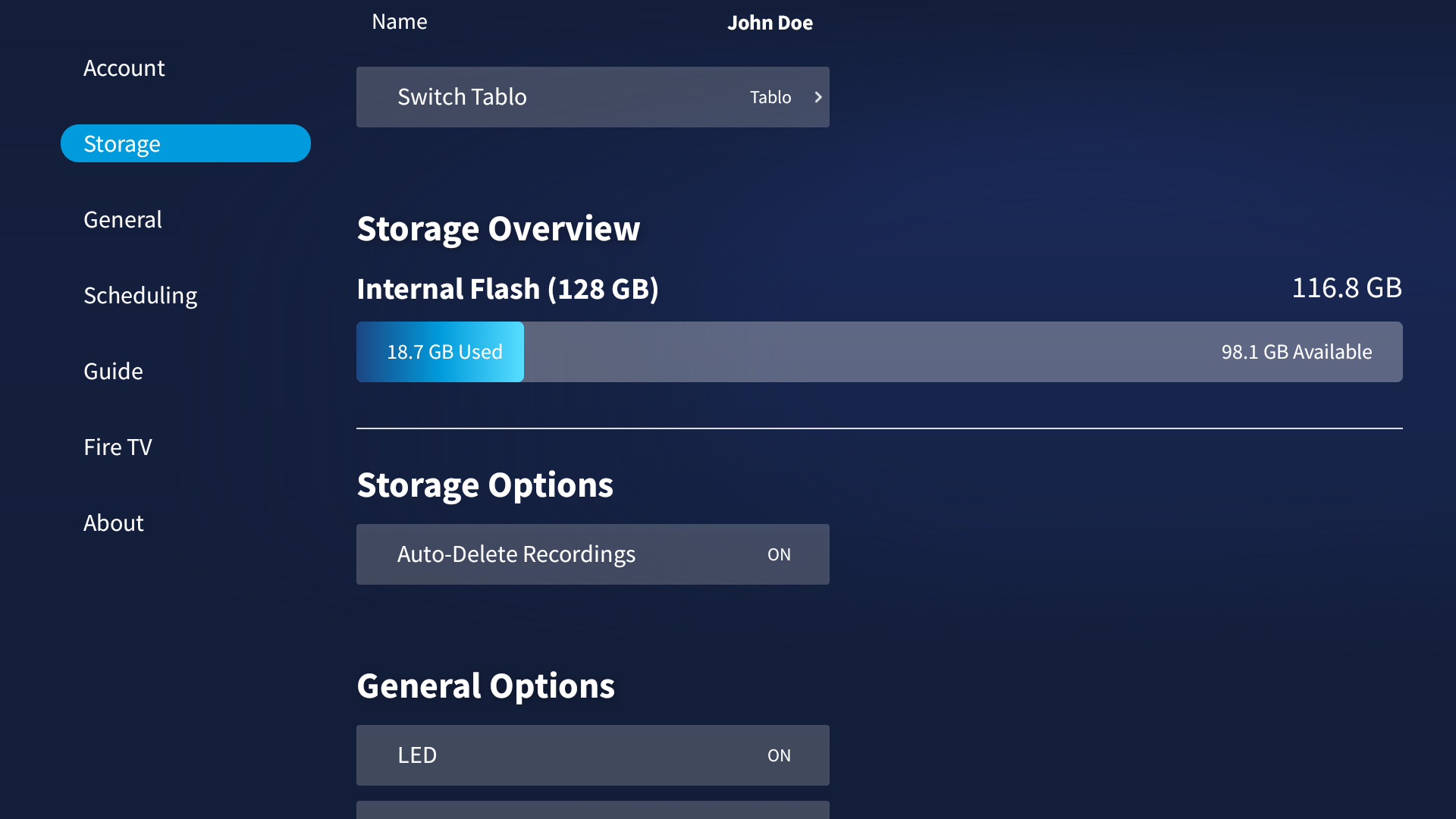 Storage Options
Allows you to turn the Auto-Delete feature on or off. Tablo's auto-delete feature will keep a minimum amount of space free at all times. This ensures that your storage never reaches 100%.
Details on this feature can be found here: https://support.tablotv.com/hc/en-us/articles/115002651786-How-does-Tablo-s-Auto-delete-feature-work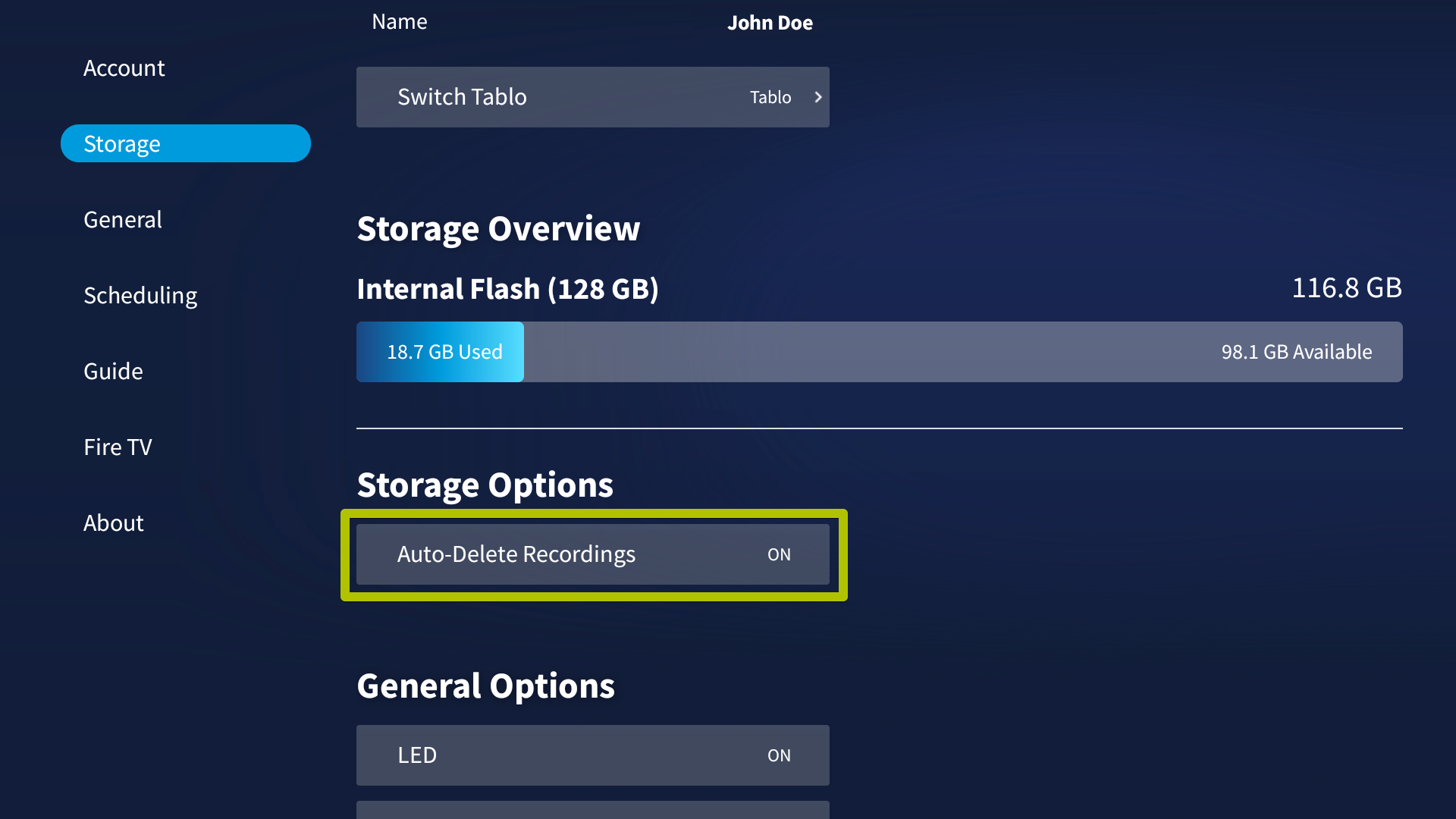 General Options, Antenna Amplification
Allows you to enable/disable the optional built-in antenna amplifier.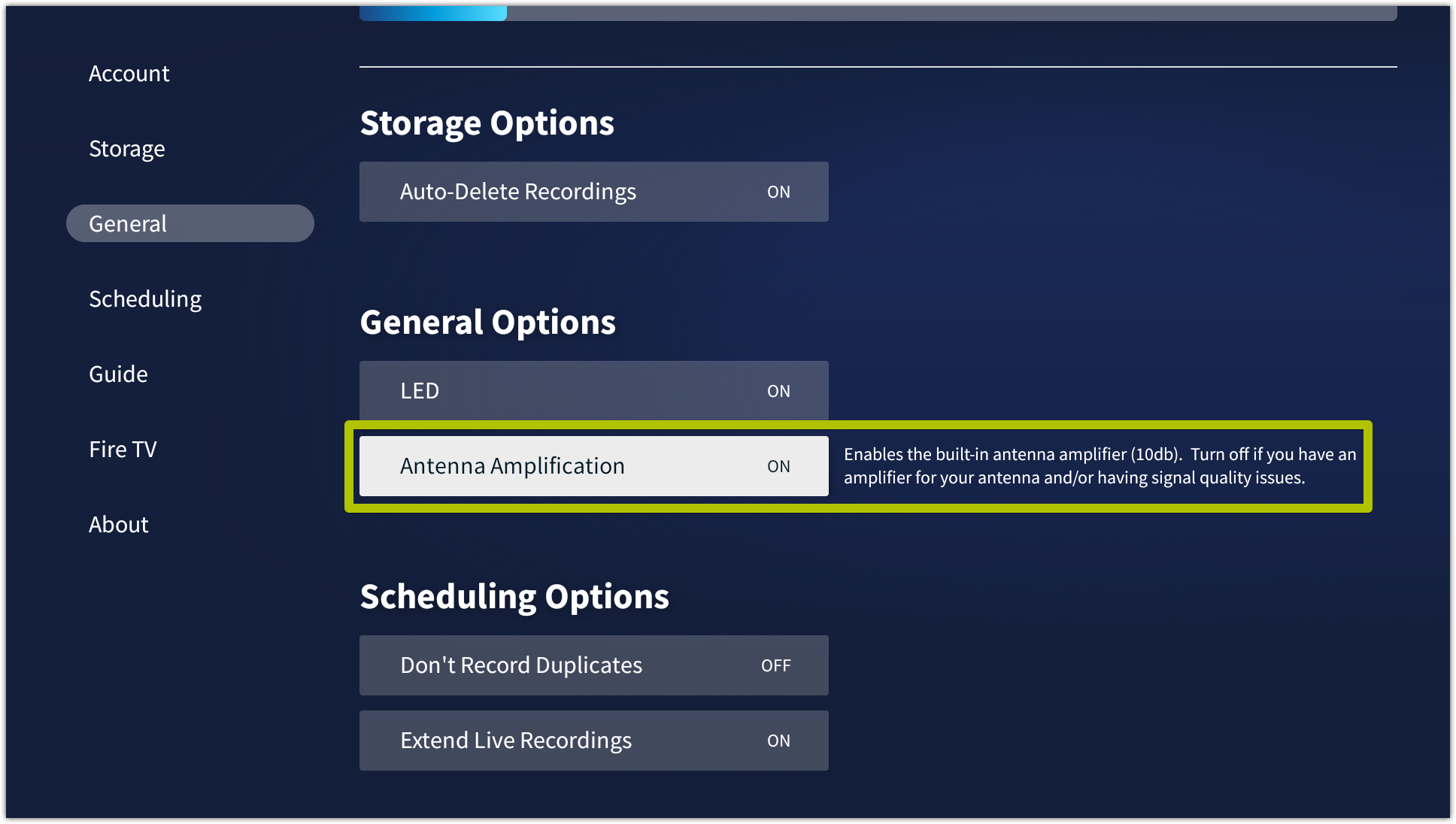 General Options, LED
The LED feature toggles the Tablo's blue light on the box. Enabling this feature will turn the light on, and disabling it will turn it off.
The 4th generation Tablo's blue LED will flash white if the unit is experiencing a connectivity issue.
Note: The unit's LED will also blink white after firmware updates until the unit has checked into our server.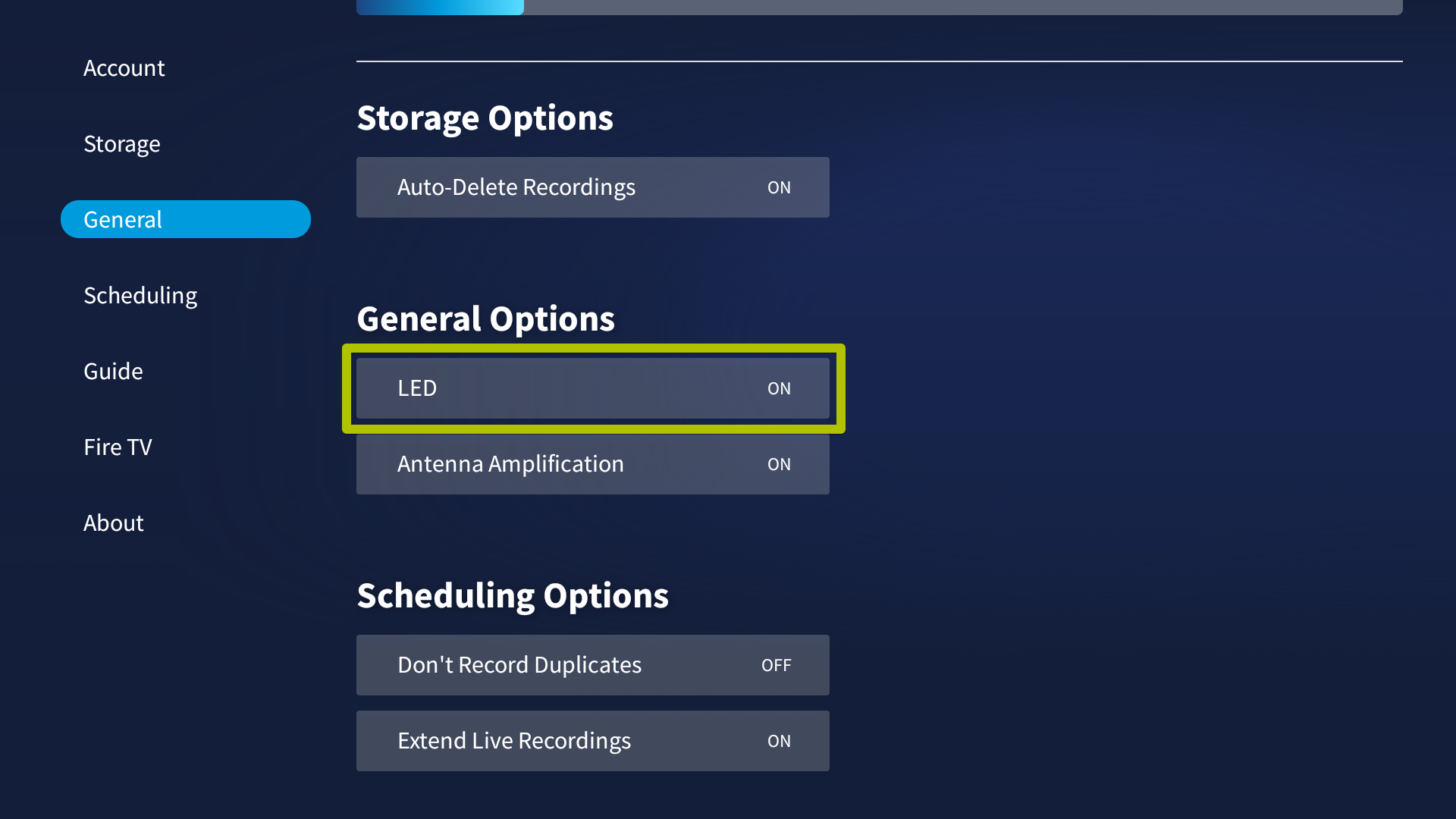 Scheduling
Don't Record Duplicates: When enabled, your Tablo will not record the same airing (TV show or Movie) more than once if a copy already exists on your Tablo's hard drive.
Extend Live Recordings: When enabled, your Tablo will automatically extend any live broadcasts by up to a maximum of 50% of their original length.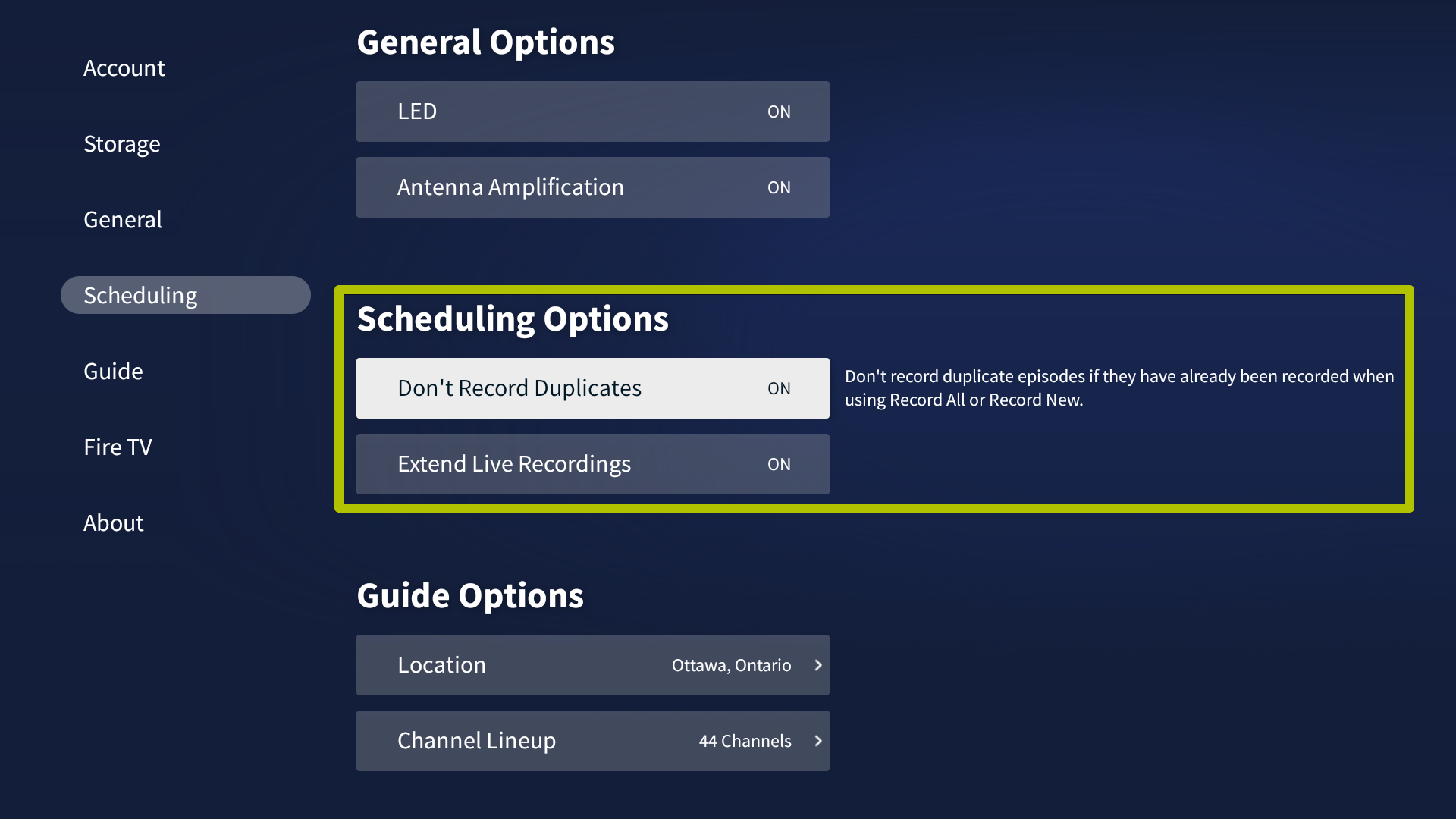 Guide
Edit Location: This feature brings up the Location dialog screen to allow you to change the location of your Tablo.
Edit Channel Lineup: This feature brings up the Channel dialog screen to allow you to re-scan for channels or to change the selection of channels that you would like included in the Guide and Live TV screens.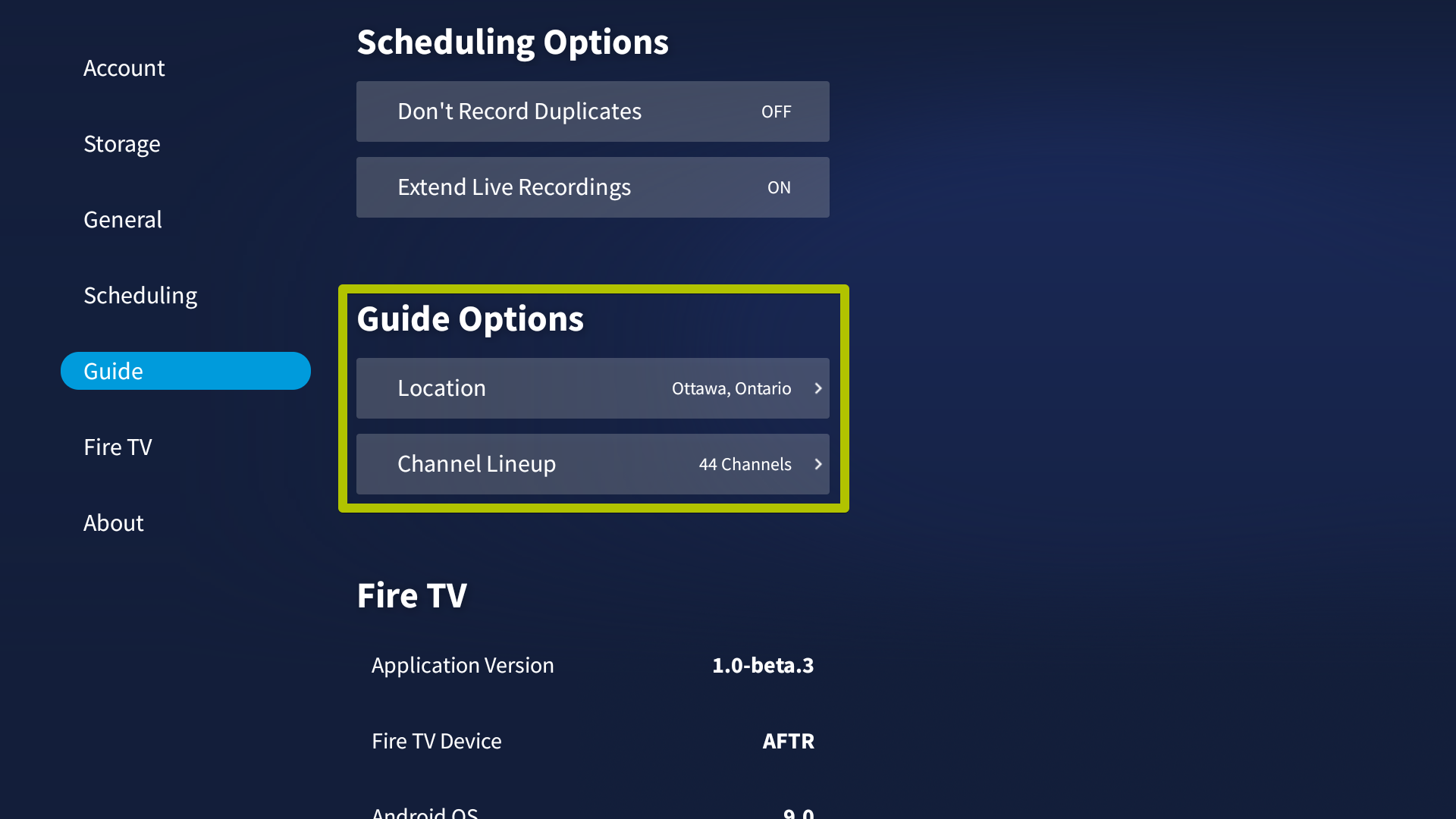 Channel Lineup (After Scan)
This screen will display after selecting 'Channel Lineup', it will allow you to Add or Remove available channels for your Tablo Guide.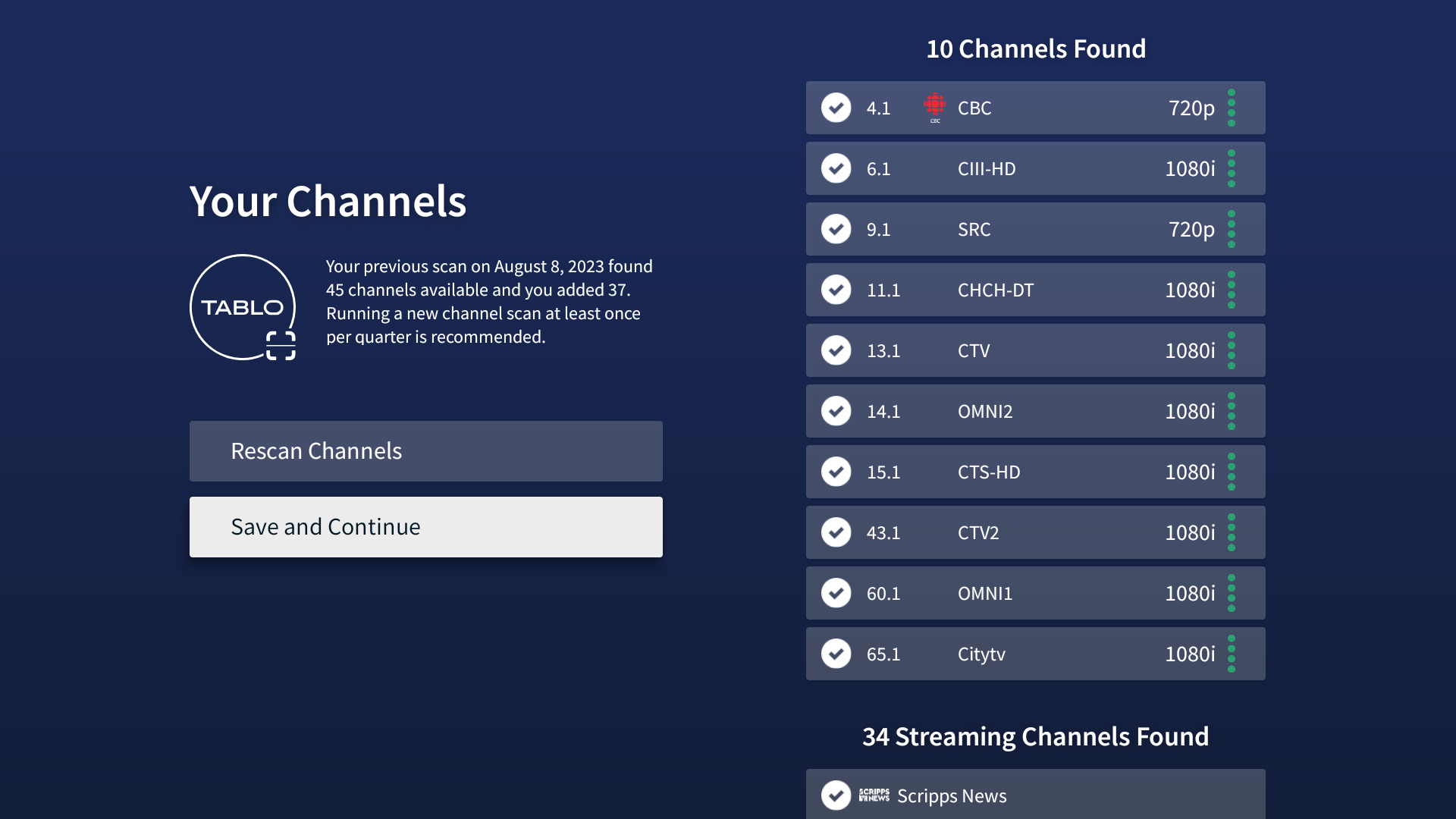 Platform Details
Platform details display the app version you are using.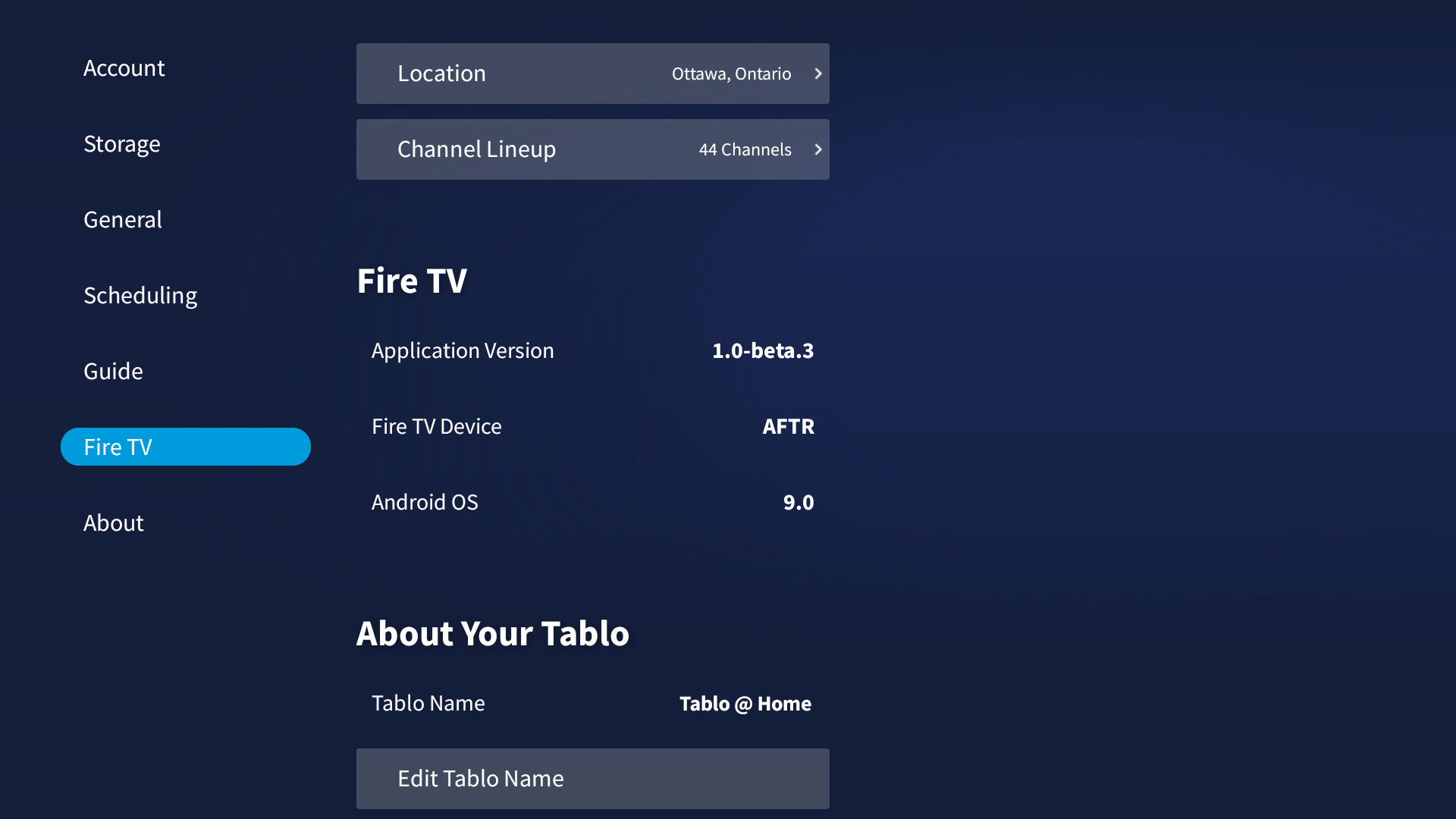 About, Name
Allows you to customize the name of your Tablo.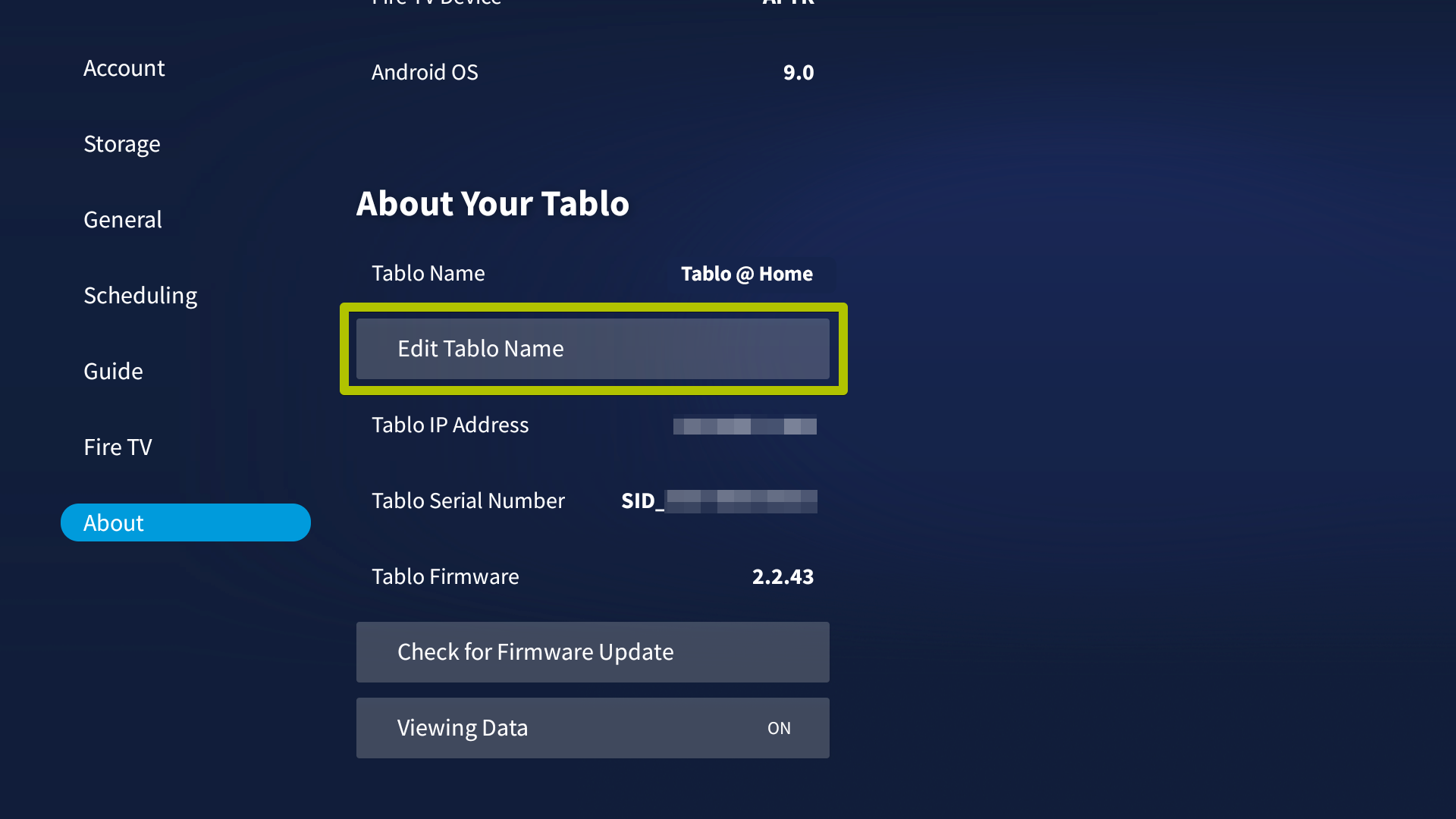 About, Firmware
Any firmware updates available for your Tablo will appear in this section.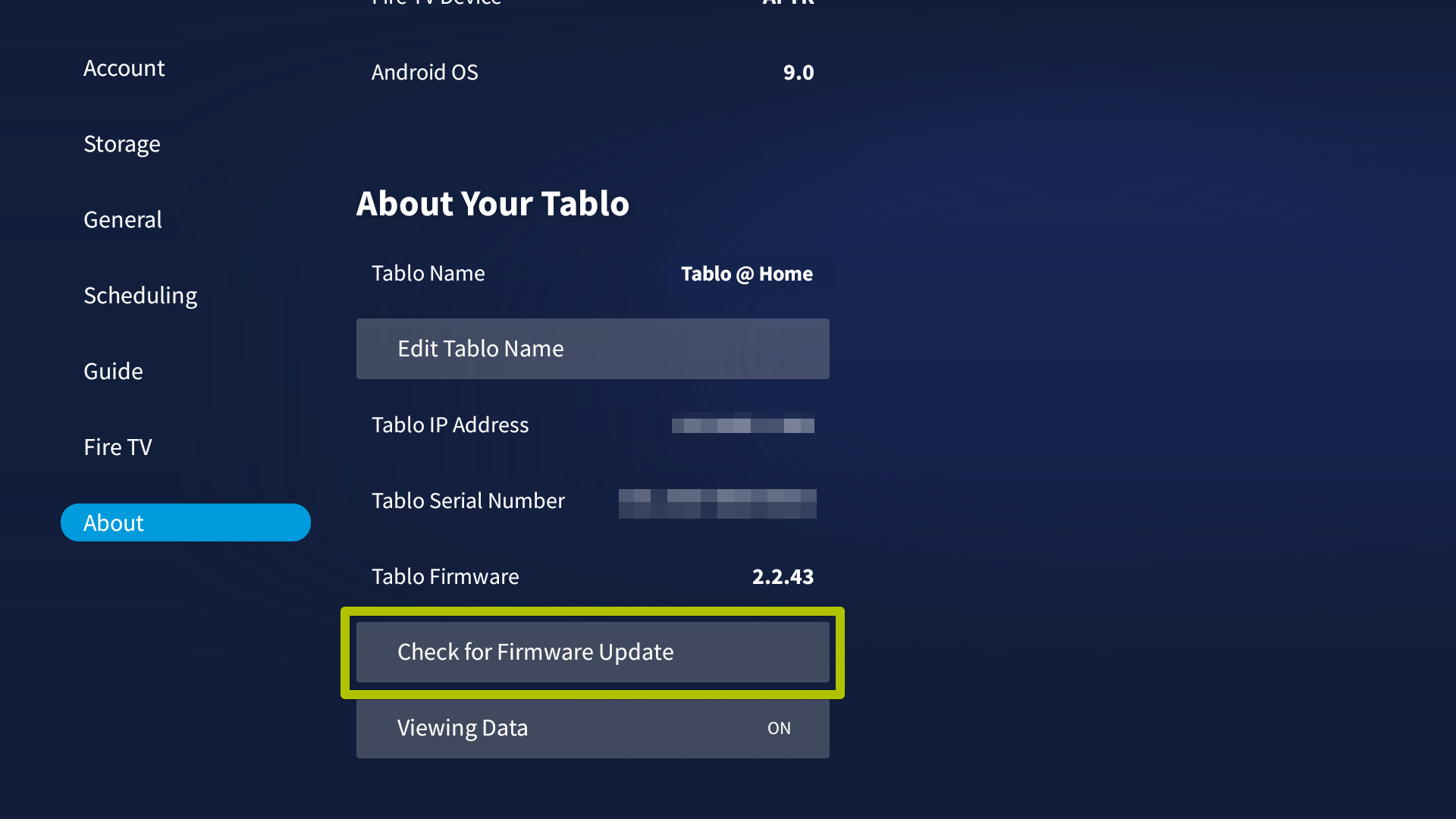 Viewing Data
Allows you to toggle the viewing data option On or Off. You can read in-depth information about this setting here: https://support.tablotv.com/hc/en-us/articles/9447867875604-New-Tablo-Setting-Viewing-Data