*** As of August 24th 2022, Premium Service/Automatic Commercial Skip
is no longer available for purchase ***
Tablo's Automatic Commercial Skip feature works with most programs and networks, however some programs/networks are ineligible for processing by the Automatic Commercial Skip server and are filtered at the Tablo device level.
Ineligible programming includes all manual recordings, shows from commercial-free networks like PBS, as well as a subset of individual series from ad-supported networks.

Why Are These Programs/Networks Ineligible?
As mentioned above, broadcast networks that are commercial-free such as PBS, are filtered as to not waste upload/download bandwidth and processing power as the only 'ads' on these channels are periodic fundraising appeals.
Manual recordings are not eligible as they lack the guide data details required for the feature to work.

The majority of individual ineligible programs are re-runs of classic series from the 50s, 60s, and 70s like Bonanza, Gunsmoke, and Gilligan's Island which are primarily broadcast on US subchannels.

The commercial breaks for these older programs are wildly different than those on modern, prime-time programming with either very short commercials or incredibly long 'infomercial style' ads which are sometimes inserted in random locations in the episode. These odd ad breaks are not compatible with the current digital signal processing (DSP) algorithms and machine learning algorithms that run on the Automatic Commercial Skip processing servers.
Other individual ineligible programs either have no commercials (in the case of religious programming) or are news/talk shows with frequent switches between in-studio and video segments which are also incompatible with the current algorithms.
It is possible for the servers to 'learn' how to handle these shows so they can eventually be removed from the ineligible list, but time for additional custom configuration will be required.
How Do I Know If A Program or Network Is Ineligible?
A full list of ineligible programs and networks can be found below. However, recordings that have been filtered will also be marked as such within Tablo apps on Roku, Amazon Fire TV, Android TV, and Apple TV.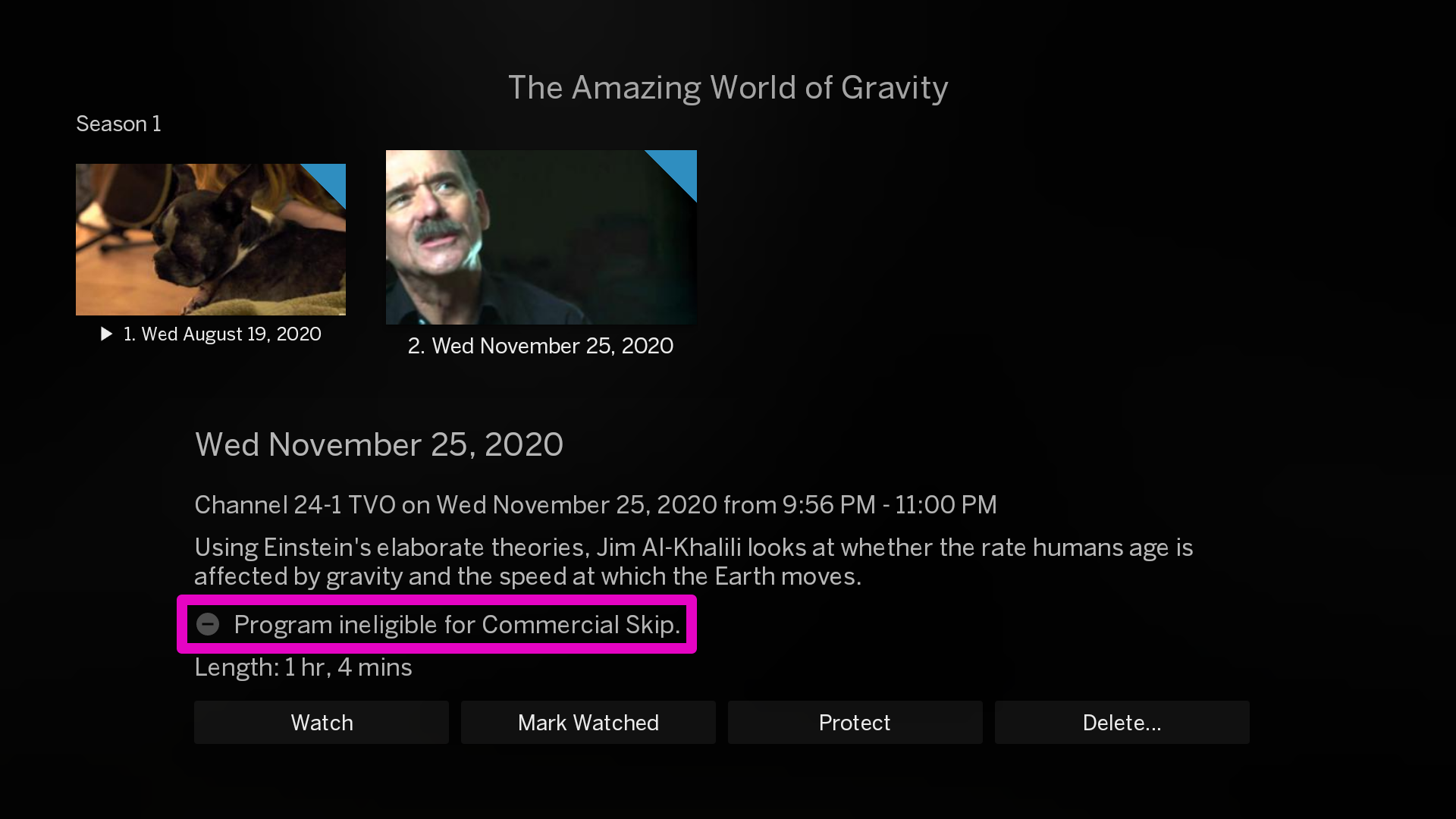 Filtered Shows (as of January 11,2021):
'Til Death
Alfred Hitchcock Presents
Alice
All in the Family
Animals Unscripted
Black Sheep Squadron
Bonanza
Carol Burnett and Friends
Dragnet
F Troop
Gilligan's Island
Gomer Pyle, U.S.M.C.
Good Morning America
Green Acres
Gunsmoke
Have Gun — Will Travel
Hogan's Heroes
I Love Lucy
In Touch With Dr. Charles Stanley
Joel Osteen
Joseph Prince
Joseph Prince
Laramie
Leave it to Beaver
MLS Soccer
Married ... With Children
NOVA
Night Gallery
Passe-Partout
Tales of Wells Fargo
The Andy Griffith Show
The Beauty of Oil Painting With Gary and Kathwren Jenkins
The Best of the Joy of Painting
The Beverly Hillbillies
The Burns and Allen Show
The Carol Burnett Show
The Ed Sullivan Show
The Green Hornet
The Rifleman
The Saint
The Three Stooges
The Twilight Zone
The View
The Wendy Williams Show
Through the Bible With Les Feldick
Today
Trackdown


Filtered Networks (as of January 11, 2021)           
TVO
PBS
PBS Create
PBS World
PBS KIDS
Trinity Broadcasting Network (SD)
Trinity Broadcasting Network (HD)
JUCE (SD)
JUCE (HD)
Hillsong Channel
TBN Salsa
TBN Enlace