As long as your legacy network-connected Tablo is running firmware version 2.2.22 or higher, it will be capable of passing Dolby 5.1 Surround Sound audio (aka AC3) through to supported viewing devices.
(4th generation Tablo devices and TV-connected Tablo DVRs support Surround Sound passthrough natively.)
As Tablo OTA DVR hardware and its associated apps are designed to create and deliver a single audio stream, you will need to choose between staying with stereo sound OR moving to Surround Sound audio.
How to Enable Surround Sound
The global Surround Sound feature can be enabled via a toggle in the SETTINGS screen in the following Tablo apps:
Tablo web app at my.tablotv.com
Amazon Fire TV
Android TV
Apple TV
Roku
iOS
Windows 10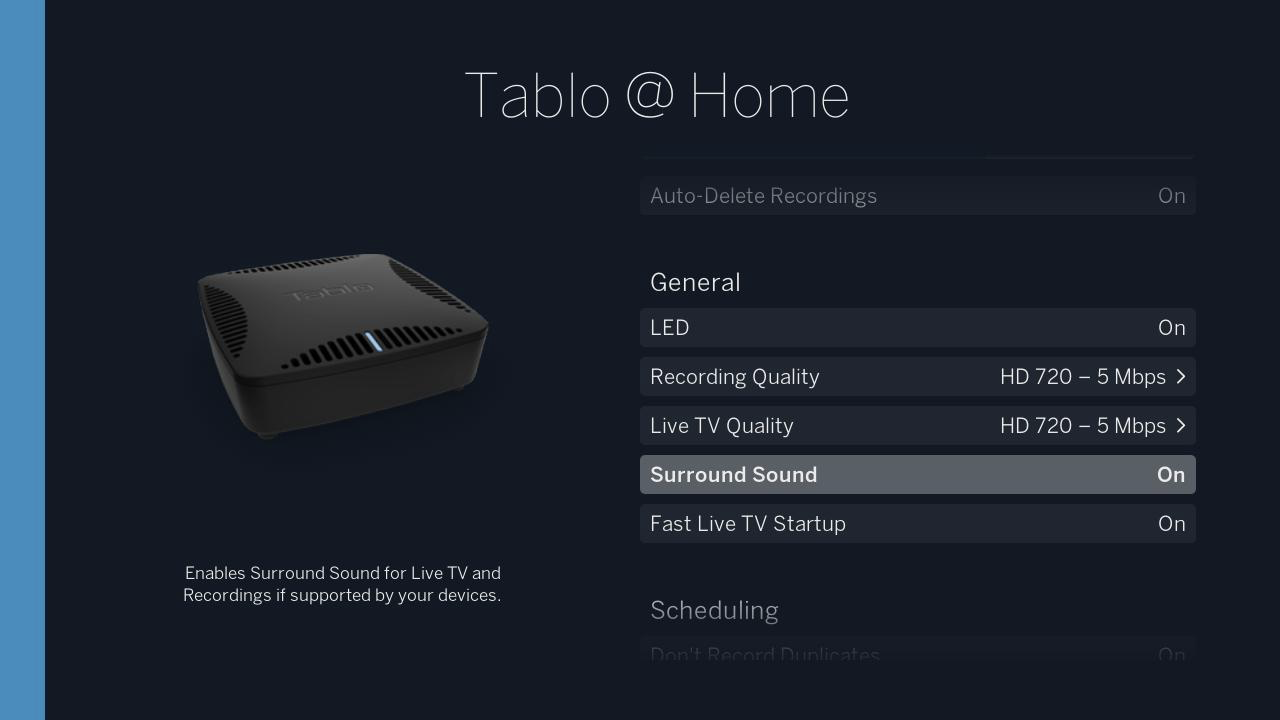 What You Can Expect
When enabled, the Surround Sound setting will tell your Tablo DVR to capture 5.1 Surround Sound audio where available and pass it through to ALL connected devices, regardless of whether or not they can decode this type of audio profile.
When enabled, devices that cannot decode Surround Sound – like many Android smartphones - will receive video, but no audio.
The exception to this is when viewing via Tablo Connect, at certain playback settings. More on that below.
Similar to changes to video quality settings, switching to Surround Sound audio will be reflected immediately on Live TV and on all subsequent recordings.
It will not affect previously completed recordings, and recordings completed without Surround Sound will continue to be available for playback with stereo sound.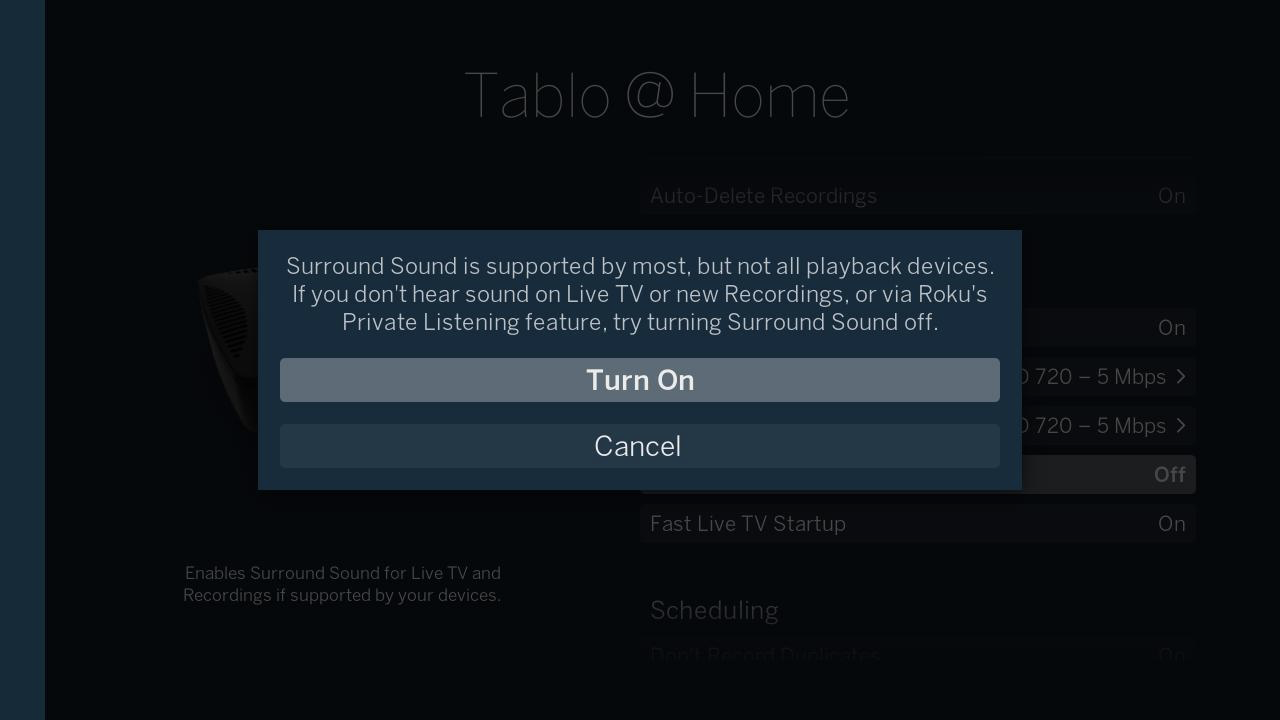 Surround Sound Supported Devices
With Surround Sound enabled, your Tablo OTA DVR will deliver this audio profile when available to all your devices, regardless of their capacity to decode Surround Sound.
However, a shortlist of currently supported devices includes: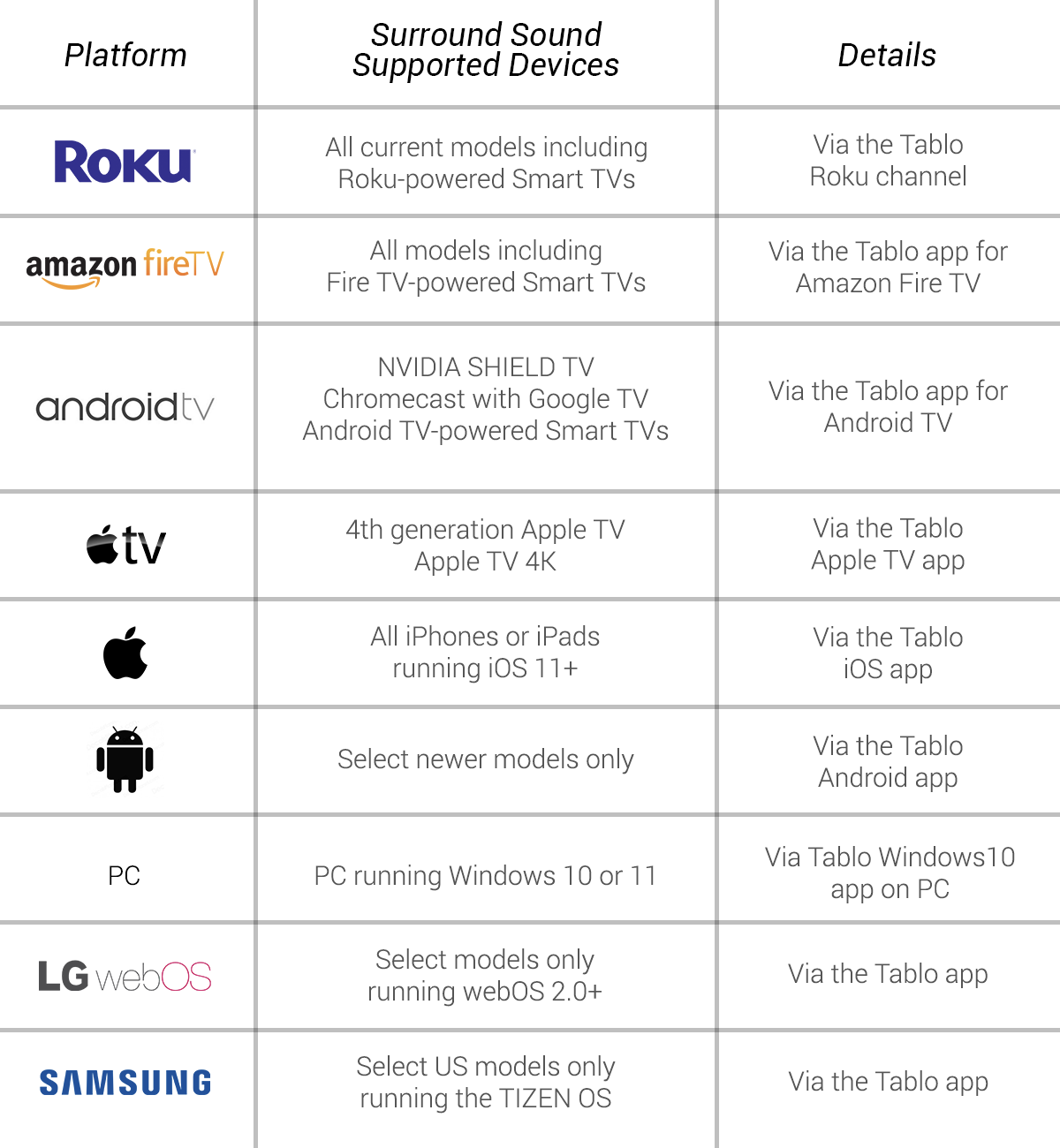 Current Surround Sound Device/Platform Limitations
Supported streaming boxes, sticks, or mobile devices must have the appropriate device-level passthrough settings enabled and (if applicable) be connected to a device (TV and/or audio device) that can decode 5.1 Surround Sound.
Surround Sound & Remote Viewing with Tablo Connect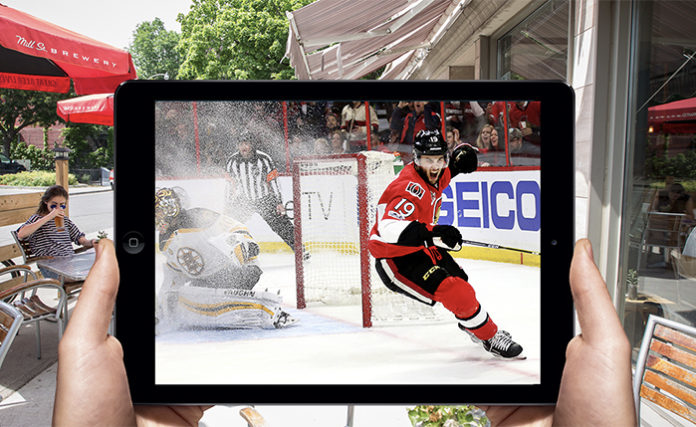 When using the out-of-home streaming service - Tablo Connect - it is worth considering the impact of enabling 5.1 Surround Sound on remote viewing.
When using Tablo Connect, 5.1 Surround Sound will only be available on supported devices when using the 'full quality' remote streaming setting.
However, ALL devices (even those that don't support this sound profile) can still enjoy stereo sound even when Surround Sound is enabled at any remote streaming quality EXCEPT 'full quality'.