Surround Sound Supported Devices
As long as your Tablo is using version 2.2.22 (or higher) of the Tablo firmware, you will be able to turn on the Surround Sound quality in the Settings screen of the following Tablo apps:
• The Tablo Web App at http://my.tablotv.com/
• Roku
• Android TV
• Fire TV
• Apple TV
Note: For quick reference of which devices are supported, and when Surround Sound will and won't work, scroll to the bottom of this article for a helpful graph with the details.
Once you enable the Surround Sound feature, your Tablo will deliver this audio profile to all your devices, whether that device has the capacity to decode surround sound or not.
Devices that cannot decode surround sound – like many Android smartphones - will receive video, but no audio.
Currently supported devices include: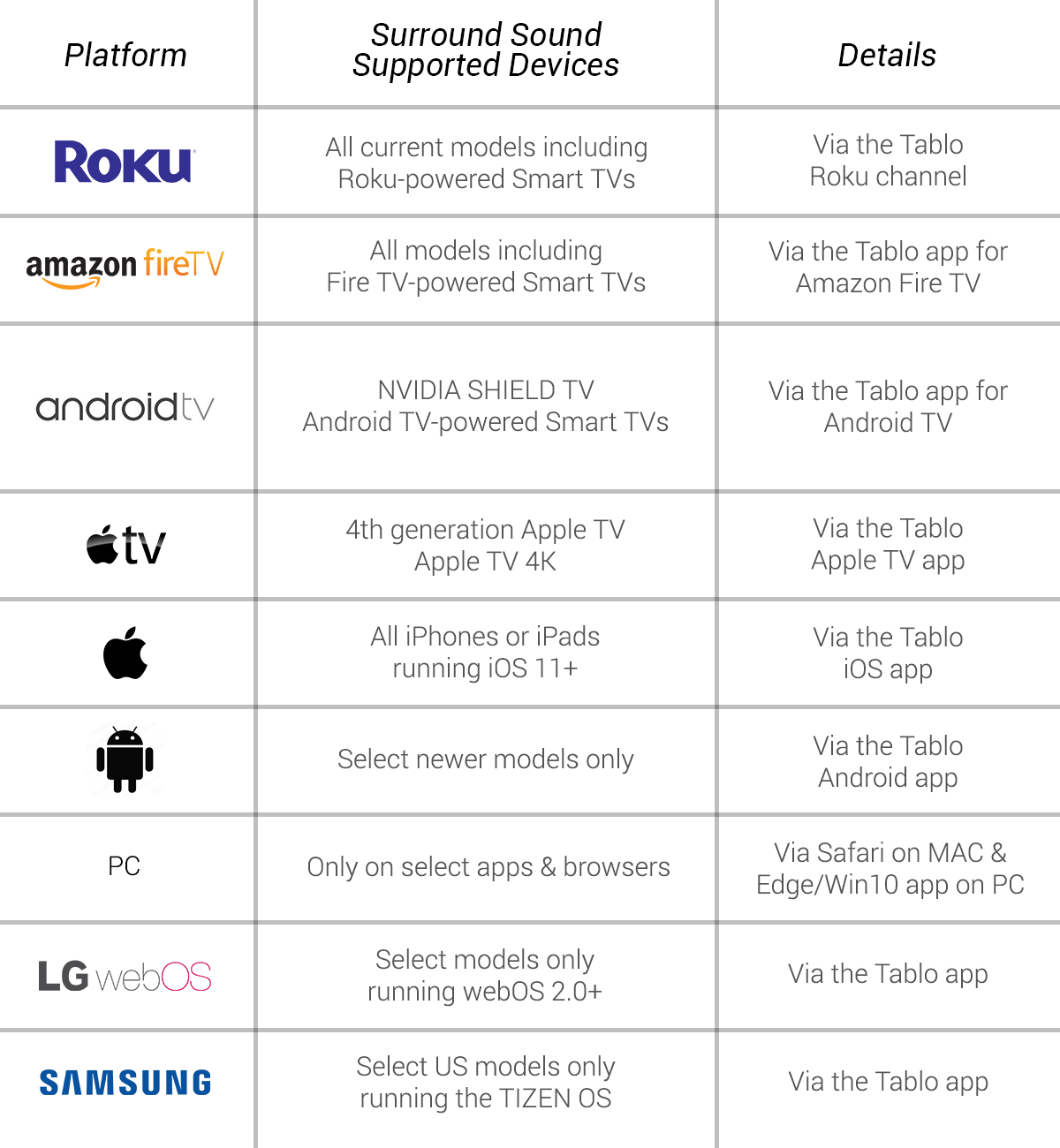 Devices and uses cases that are not supported include:
• Chromecast streams via Android tablets and smartphones
• Xbox One
• http://my.tablotv.com/ when using the Chrome Browser (you can use the latest version of Microsoft Edge as a workaround)
NOTE – Supported streaming set-top-boxes must have the appropriate device-level passthrough settings enabled and be connected to a device (TV and/or audio device) that can decode Surround Sound.
Using Surround Sound with Tablo Connect (Remote Access)
When using Tablo Connect, surround sound will ONLY be available on supported devices when using the 'full quality' remote streaming setting. However, ALL devices (even those that don't support this sound profile) can enjoy stereo sound even with 'Surround Sound' enabled at any remote streaming quality EXCEPT 'full quality'.
Similar to changes to video quality settings, switching to Surround Sound audio will be reflected immediately on Live TV and on all subsequent recordings. It will not affect previously completed recordings.
If you don't receive surround sound audio on live TV immediately after enabling the feature in the Settings screen, reboot your Tablo by tapping the reset button on the back of the unit once. All subsequent live TV and recordings will be transcoded with 5.1 surround sound.