Selecting the Right WiFi Frequency for your Tablo
When configuring your Tablo's WiFi connection, most modern routers will offer you two options: a 2.4 GHz band and a 5 GHz band. Depending on your router, you may also have a "guest" network available but, because these networks limit the ability of your devices to talk to each other, your Tablo (and all of the devices you use to connect to it) should be connected to one of these two bands.
Which network to choose depends on a number of factors. Generally speaking, the 2.4 GHz band will be better at penetrating obstacles (like walls and ceilings), which means it will work better if you have a distance to cover. The 5 GHz band will offer faster connection speeds in ideal circumstances, but drops off relatively quickly as you increase the distance which makes it the ideal choice if your Tablo is in the same room as your router.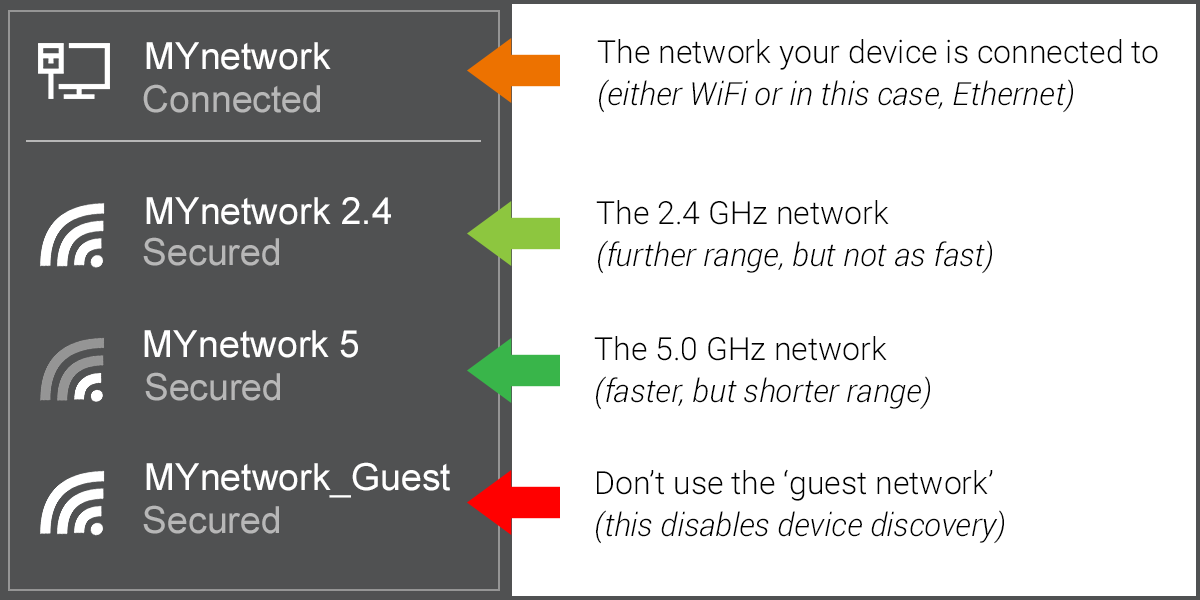 Once you have determined which WiFi band will be best for your Tablo, you can begin setup (or visit this support guide for help with switching the WiFi network your Tablo is currently connected to).
Fine Tuning Your Router's 2.4 GHz Channel
On the 2.4 GHz WiFi band, there are 11 channels on which your router can broadcast. It helps to think of these like the digital OTA TV subchannels you watch. While you may have channels 24.1, 24.2, 24.3, etc., they're all broadcasting under the same major channel number (24).
In the same way, your router can broadcast on 11 separate channels, all within the same 2.4 GHz frequency. These channels are only slightly different from one another, but they are used when one channel in particular is congested (from neighbors' WiFi networks, electronic devices in your home, etc.).
In the above image from DSLreports, each channel is represented by a semi-circle. Because the channels overlap one another, there are three channels in particular that tend to provide the fastest, most reliable connections. Since channels 1, 6, and 11 do not overlap one another, you can narrow down your selection to one of these three. This will eliminate co-channel interference as much as possible.
Beyond this point, unless you have software to scan your 2.4 GHz WiFi network (like inSSIDer Essential), selecting the least congested channel of the three will involve some trial and error. For assistance with logging into your router or changing these settings, consult your router's support documentation.