Your Tablo account is your tool for managing your Tablo guide subscription, viewing past invoices, as well as editing your administrative details. When logging into your account at https://account.tablotv.com/ you should see a page that looks similar to this:

Adding a Tablo to Your Subscription
To add a Tablo to your subscription, click the "Replace Device" button on the right side of your dashboard. The next page will ask you to select the type of Tablo you would like to add to your account to replace the existing unit. A dialog box will appear allowing you to enter the Tablo's serial number. The Tablo's serial number is found on the bottom of the Tablo, or on the retail box it arrived in. When finished, click "Add" and your Tablo will be linked to your guide subscription.

Modifying/Cancelling Subscription
If you'd like to change the plan to which you're subscribed, start by removing your existing subscription. You can do this by selecting the "Options" drop down and choosing "Delete Subscription".
To add a new subscription, select the "Add Subscription" button, and you will be brought to this page to select the model of Tablo you would like to register: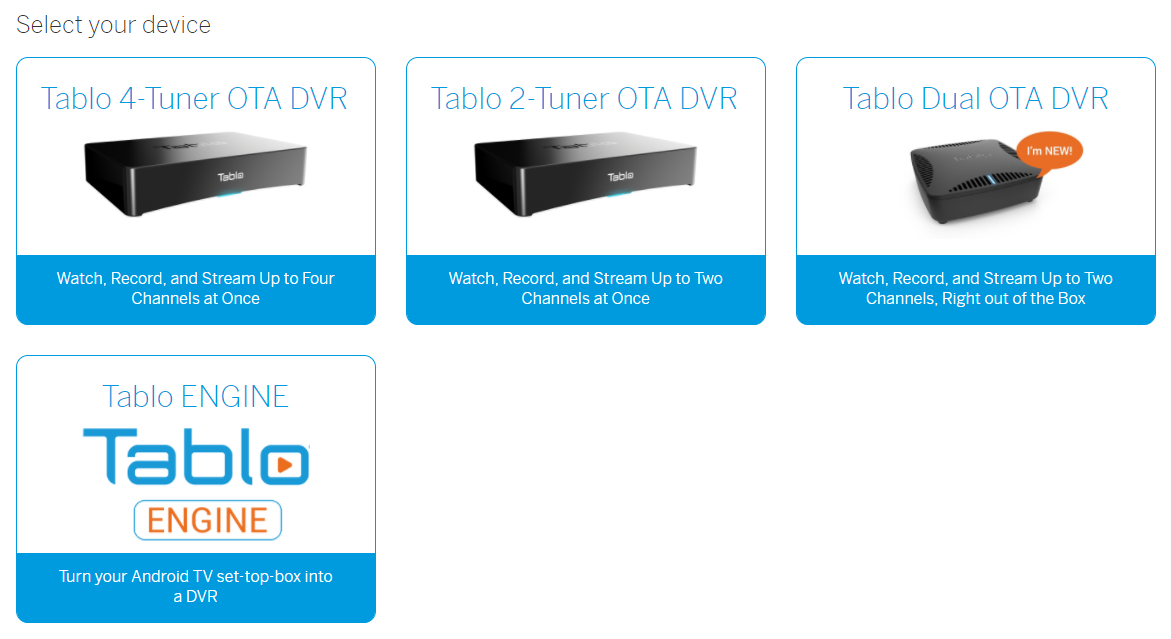 Select the device that matches yours, enter its serial number, then select the subscription type of your choosing. If you're a first time subscriber, this process is the same - you just won't have to delete an original subscription.
Editing Account Details
If you need to change the email address on your account, edit your billing address, update payment information, or change your password, you can make all of these changes from the "My Account" drop down menu at the top right corner of your screen.
Navigating the Menu Bar
There are several helpful links in the menu bar at the top of the account dashboard. From here, you can click the Invoices link, which will bring you to a list of your subscription invoices. Clicking the Web App link will open up the Tablo Web App, allowing you to connect to Tablo in your browser (Google Chrome, Safari, or Microsoft Edge recommended). The Support link will bring you to our support documents, to answer any questions you have about Tablo. Finally, the Contact Us link will help you reach us, should you need further support.