Owners of network-connected Tablo DVRs now have a new and improved way to access their DVRs on PC.

Tablo's updated Windows 10 desktop app is available for download either directly from the Tablo apps page, or from the Microsoft app store on computers running Windows 10. This updated Tablo Windows 10 app has several benefits including:
This is the first step in a full refresh of the Tablo app for PC/MAC which is slated to launch later this fall.
In the coming months, support for our current web-based app at my.tablotv.com while using the Chrome browser will end and when it's ready, the Windows 10 desktop app will be updated with the brand new Tablo app code base.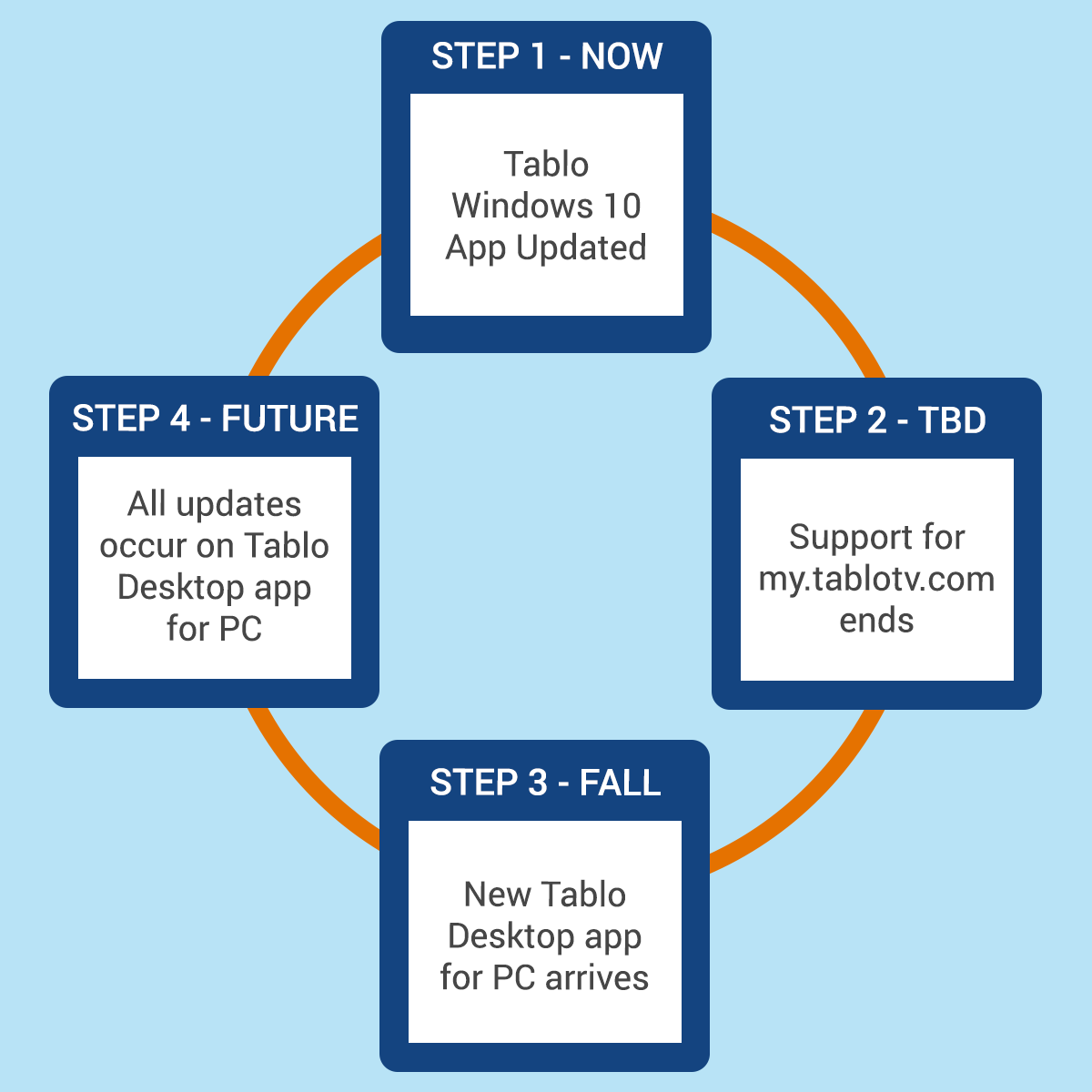 Transitioning to a downloadable desktop app will enable some new and innovative features that are not possible with current browser-based technology.
Please download and install the Tablo Windows 10 desktop app as soon as possible. This will ensure consistent access to your Tablo from your computer and ensure pairing details are set on the new app for Tablo Connect if that's a feature that you use. It will also ensure you receive future app updates.
You can read more about this transition on the Tablo Community.
MAC Users
Users of MAC computers can continue to access the Tablo app at my.tablotv.com via the Safari browser for the time being.
Linux Users
For our Linux users, we have validated that the Firefox browser supports most features of the Tablo web app at this time.
Context For This Change - Modifications to Chrome Technology
Due to changes coming in Chrome , the Tablo web app running on future versions of Chrome will be blocked from accessing video streams from a Tablo device, even when it's on the same secure local network.
This is as a result of Chrome enforcing a new rule that disallows communication between the browser and local devices on a secure home network that do not use SSL encryption.
The Tablo records and plays back unencrypted Over the Air Broadcast TV streams. Since the source video is unencrypted, the Tablo sends these streams over the Local LAN unencrypted. The Tablo encrypts control traffic for security but lacks the capability to do real time encryption of high bitrate video streams, as this has been unnecessary in the past.
We understand this Chrome change is disruptive, but the hardware cannot be changed with a software update. Therefore, we have released a new version of the Windows 10 Tablo app that is unaffected by the Chrome browser change for our Windows PC users.
UPDATE - September 1, 2021
As Chrome 93 begins to roll out it appears as though the impending change that would have blocked traffic between Tablo DVRs and Chrome browsers has been delayed to Chrome 94 (currently in beta) or beyond.

At this time it's unclear when the change will actually be implemented but we will do our best to keep you all informed.
In the meantime, we still recommend that Windows users download and use the Tablo Windows 10 app moving forward.