Current Subscription Status
You can view your current subscription status in the Settings screen within the Tablo iOS, Android and web-based apps.
Depending on your current status, one of the following will appear in the Tablo app:
Active means that you have purchased and activated a subscription.
Trial means you're still within your 30 day trial period.
No subscription means that your 30 day trial period has expired and you have chosen not to purchase and activate a subscription.
If you choose not to purchase a subscription, please be aware that some features will no longer be available to you. For a full overview of what a Tablo subscription provides, please click here.
How Do I Buy a Subscription and Activate my Tablo?


To purchase your Tablo guide data subscription, either select 'activate subscription' within your app, or visit https://account.tablotv.com/.
From there, register by creating an account. You must register before selecting your subscription and activating.
Once registered, to activate your Tablo account, you'll need to go to your email and click on the activation link provided. If you don't see an email in your inbox, please remember to check your spam folder before seeking additional help.
This will bring you to a screen where you can begin the subscription activation process by entering your billing information.
Up next is selecting a subscription. You can choose to be billed monthly or yearly.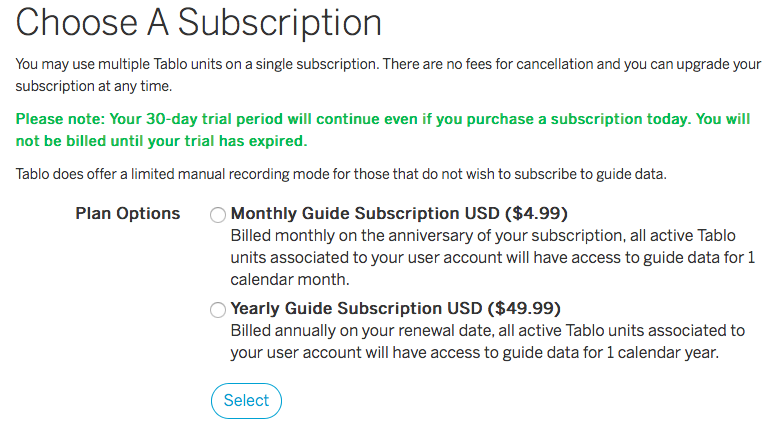 Once you've selected and confirmed the payment for your subscription, you'll need to associate your Tablo to your subscription by entering the serial numbers of your unit. Make sure you type this in carefully and that your Tablo is online and connected to the Internet.
Your Tablo will now have an active subscription!
If you would like to manage your subscription including changing your payment method or billing address, or if you intend to add another subscription to your account, you can log in to the My Tablo Account available at account.tablotv.com/login.