NOTE - Tablo Connect is not supported on the 4th generation Tablo nor Tablo DUAL HDMI or TABLO QUAD HDMI devices.

Tablo Connect is a subscription-only feature for legacy network-connected Tablo DVR models that is enabled in the settings screen of supported legacy Tablo apps, to allow you to access your live and recorded hometown TV through Tablo over Wi-Fi or cellular data connections anywhere in the world.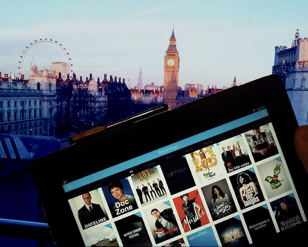 Syncing/Pairing Your Devices
Supported devices must be synced with your Tablo on its home network before departure.
Syncing your supported device (see below) with Tablo on your home network pairs your device and forms a secure connection with the unit. Then, when you are away from your home, the Tablo app on your device remembers the connection and uses your home internet to stream anything from your Tablo DVR to your device.
Once your device has been paired, you can watch live or recorded TV, set future recordings, and adjust some of your Tablo's settings, the same way you would at home.
Network Usage
Video streamed to a paired device using Tablo Connect is uploaded via your broadband internet connection. As such, playing back video will use and be affected by the upload speed of your internet connection.
Tablo Connect Supported Devices
iOS (iPhone/iPad)
Android mobile
Amazon Fire TV
Apple TV
Android TV
PC/MAC
NOTE - Tablo Connect is NOT supported on Roku
Considerations
The 'best' device for Tablo Connect depends on your needs, but keep these considerations in mind:
Portability
Mobile devices are great for small-screen viewing. If you plan on watching on a TV at your vacation home, we recommend considering a streaming stick or box like Fire TV, Android TV, or Apple TV.


Internet Upload Speed
When streaming video via Tablo Connect, you are limited by the upload speed of your external internet connection from your ISP. A minimum upload speed of 5 Mbps is required.


Wi-Fi Connections
Some public Wi-Fi networks can restrict the streaming of video or the use of internet ports required to access Tablo Connect.


Cellular Connections
There are generally no restrictions on cellular connections, but streaming video via Tablo Connect can use approximately 2-7 GB of data per half-hour program, so an unlimited data package is recommended.
Tablo Connect Setup
If your home router is enabled with a Universal Plug n' Play (UPNP) function, you can set up Tablo Connect just by clicking the checkbox in the settings screen of your network-connected Tablo DVR.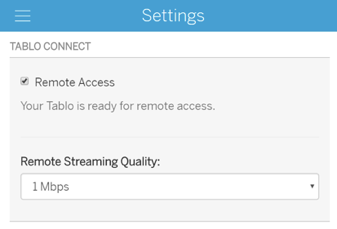 If your router requires additional configuration, you will need to set up port forwarding within your router. You can find everything you need to know about how to get Tablo Connect up and running here.